JANE & SAM – ROSSLYN HILL CHAPEL & AIRCRAFT CIRCUS SPACE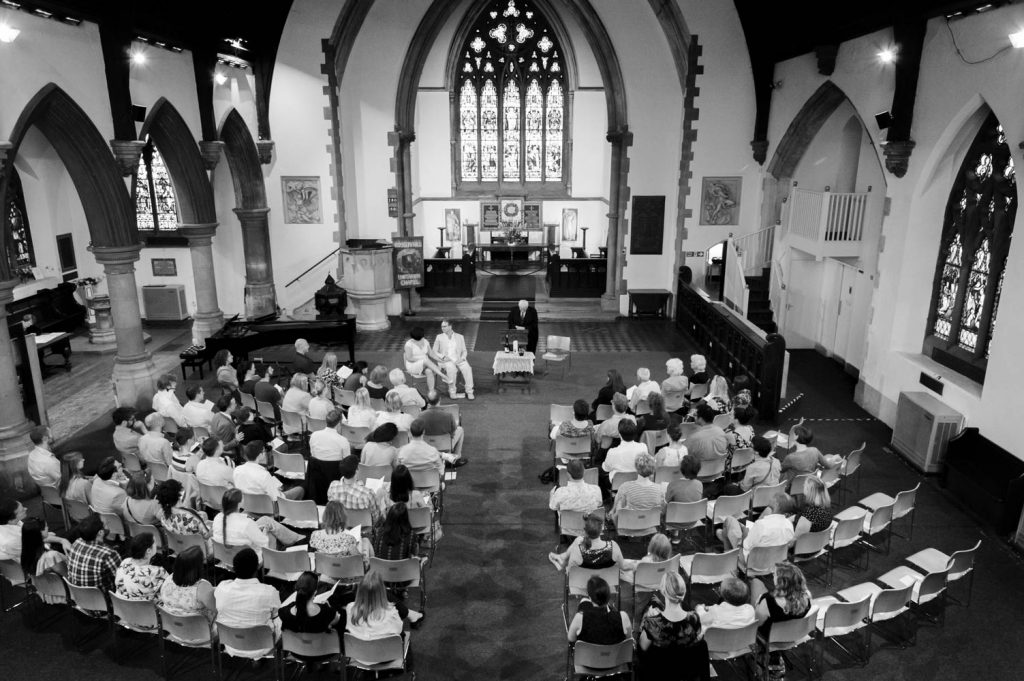 This London wedding really blew me away. When I first spoke to Sam about wedding photography he really fired my imagination; telling me about a Chapel in Hampstead, bus journeys on an old routemaster to and from the St Pancras hotel and an aerial first dance. To top it off, his vision was of natural documentary photographs, concentrating on emotion with a bias towards black and white and only using colour when it really matters – music to my ears. Did I mention fancy dress for the latter part of the day?
I went to the rehearsal to get a feel for the Chapel and meet up with the couple. I arrived before Jane and Sam and met Huggy, the larger than life caretaker of the Chapel who used to front a mod band. He oozes character and couldn't have been more helpful; showing me round, telling me about the history of the place and giving me free reign to explore.
I took a few shots during the wedding rehearsal to get an idea of the angles I could use on the day and I got a flavour of just how personal this wedding was going to be. I've never heard "you may now kiss the groom" before – but why not? I really warmed to Jane and Sam and their ideas of really making the day theirs and not doing what 'should' be done, simply because that's the norm.
The wedding day itself brought blue skies, a relaxed group guests from all over the world and a very cute little terrier to carry the rings. The minister did indeed invite the Jane to kiss the groom and the guests were understandably wowed by the voice of a friend of Sam's, an operatic singer who they had no idea was on the mezzanine at the back of the Chapel.
The routemaster took us to the St Pancras Hotel in Kings Cross and Sam, Jane and their guests had a chance to do their own thing for couple of hours. There was no particular dress code for the wedding but on returning to the hotel to meet up with everyone, I was now in the company of a Samba band, a couple of crocodiles and Superted to name a few. It gets better…
The speeches, meal and party were at the Aircraft Circus hangar in Woolwich and the evening brought by far the best mix of tunes I've ever heard at a wedding. I suspect my clubbing days are long gone but this DJ from Wedding Jam took me right back – a million miles away from turning up with a CD of 'party hits'; they had me grinning when I heard 70's/80's by Nightmares on Wax as I was setting up a couple of flashes before the first dance. Sam explained that they don't turn just up with CD of party tunes, they talk to you in advance about what you really want; style, era and so on – they were spot on from where I was. The venue was dressed amazingly well – so much hard work went into transforming what is essentially a functional hanger into a softly lit, open yet intimate space. I could go on but maybe the fact that I really didn't want to leave such a personal, honest and emotional celebration says it all.