NICOLA & DAVID – ST LUKES SILVERHILL & THE COODEN BEACH HOTEL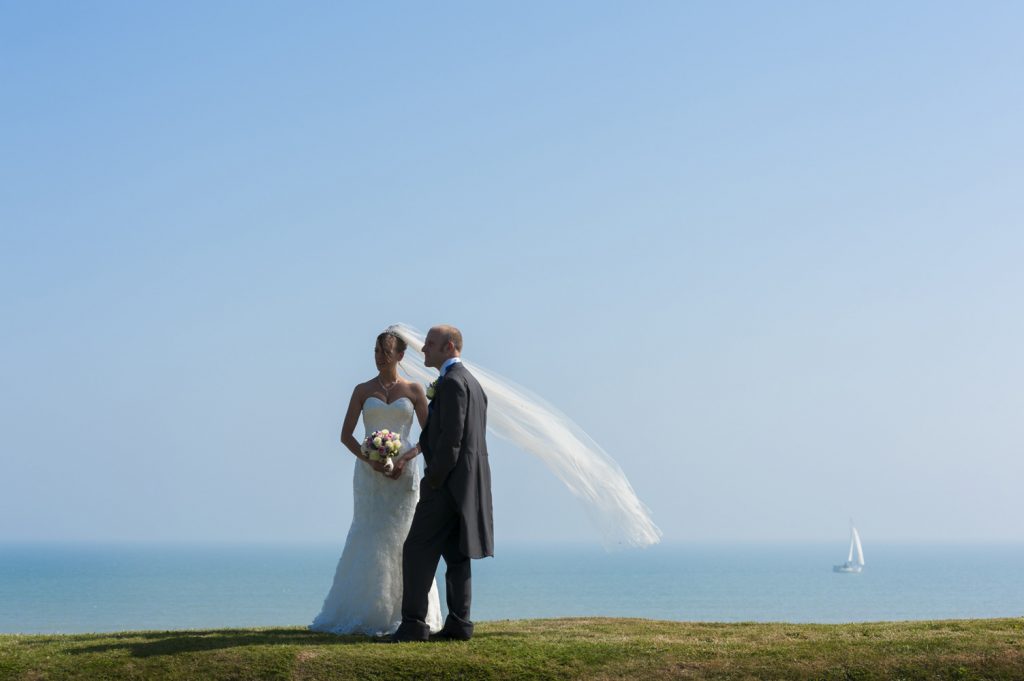 Nikki and David were blessed with perfect weather for their wedding day and were able to take full advantage of the outside space for their reception at the Cooden Beach Hotel. They were married at St Luke's in Hastings before heading a short way down the coast for their wedding breakfast and evening do.
My day began when I met up with 'the boys' in the morning for a spot of golf on a local driving range whilst Nikki and her mum started their preparations. The only hiccup in the morning proceedings was the absence of David's best man who was out on a rather urgent and unplanned shopping trip for trousers…the golf went well though. I caught up with Nikki for some shots of her hair and make up being done, opened the champagne, which isn't easy when your nails are drying (hers not mine) and got some first pictures of her dress.
I'd had a sneak preview of Nikki's dress as she'd showed me a few pictures of her wearing it at her fitting session but it was her father's reaction to seeing it for the first time that struck me. Nikki didn't keep David waiting too long and the ceremony itself was steeped in emotion. I love to move around (albeit very quietly and carefully) during the ceremony as shooting from different angles really adds to the variety of the photos and allows me to take in the expressions of the guests as well as the couple. In our discussions before the wedding, Nikki and David asked me to be in close for some shots during the ceremony.
The Cooden Beach Hotel has a huge lawn leading onto the beach and the fine weather meant that everyone could take full advantage – not least Nikki herself who get full value from the bouncy castle. Children played and grandparents watched on – it was nothing short of idyllic. The evening 'officially' ended with some spectacular fireworks and after shooting that I was challenged by Nikki's nephew to a game of one–on-one football (in the dark) which I couldn't resist.
Having been comprehensively beaten at football I had the idea of setting up a single flash high on a light stand on the lawn to take some ad-hoc portraits. Shooting in the dark has its challenges but also benefits – I was able to create a stark studio type look despite being outdoors which made for a low key set of final images from the day.